"Awakening with Ayahuasca: A conversation about energy healing, shamanism and spiritual quest."
by Alicia Benova & Karl Meyer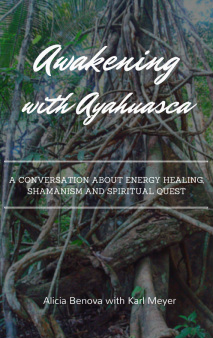 I am very excited about the book "Awakening with Ayahuasca" that tells of my personal and spiritual journey. One of my goals in writing it was to share with others some of the good things and treasures I've discovered along the way. I'm prepared to go deeper into the ideas I introduced here and recently working on continuing the journey within.
Here is a
little excerpt
which describes the rebirth experience I underwent in the
Peruvian Andes
:
"A few moments later I had the impression that I was dropping from the cliff, and I knew I was going to die. I first felt fear, but after that came peace and happiness. I asked myself, 'What is going to happen if I die now?' The answer came back to me: 'Nothing… nothing will happen. There is no death, there is no pain, there is freedom, there is happiness.' I changed from the physical form to the spiritual form… I died while I was falling down. I was feeling happy and fearless, there was no more pain for me... Even though my physical body was still held by the plants around me, some great force lifted me up and I started to fly. I was formless..."
​Paperback: $5.99 available through Barnes & Noble here
68 pages
ISBN-13: 978-1519537515
ISBN-10: 1519537514
From the blurb
Born in Eastern Europe, Alicia had to contend with personal pain and hardship which tested the limits of her endurance and led to her involvement with energy therapy. Driven by anguish to the far reaches of the Amazon, Alicia travelled across continents in hope of healing her wounds. Her quest culminated deep in the Peruvian jungle in her life-changing encounters with ayahuasca and shamanism. In the process of narrating her story, Alicia touches on topics and questions that will be of interest to those who contemplate exploring shamanic healing and the sacred ancient medicine of ayahuasca.
Here is what some readers have to say about "Awakening with Ayahuasca":

"I purchased the book yesterday and couldn't stop reading until I had finished. Fascinating and educational as it goes into the Ayahuasca experience in Peru in a very honest and open way. There are physical and psychological experiences shared that range from painful suffering to enlightened awakening. I will be returning to some of these shared experiences as they seem to emit special energy and understanding. So I enjoyed the book very much… it's a gem."
— RC

"I have done quite a bit of research and reading on the subject ever since Ayahuasca started calling me about a year ago. In my opinion this is a great book to read for anybody who is ready to answer the call of Ayahuasca for the first time and join the author on the spiritual search. I found this small book to be very easy and fun to read, well written, informative, and honest. The author shares her experiences from childhood to present day and speaks of the spiritual insights she gained on the way. I can feel her love that came out of great pain. Thank you, Alicia, for sharing."
— RK

Ebook "Awakening with Ayahuasca" is now available from all major sellers. Clicking on a logo below will allow you to buy or sample the book at the retailer of your choice.